The lecturers at the Folkwang Institute for Pop Music are nationally and internationally renowned composers, producers and performers boasting relevant expertise in their respective areas of pop. All lecturers are closely involved in supervising the students' projects, and are in regular intensive contact with each other. Project content is supervised in a co-ordinated manner, enabling the students to adopt a holistic approach to their work at all times, and pay equal heed to the various ideas and aspects.
The lecturers also work with the teaching staff from other disciplines at the Folkwang University of the Arts to facilitate sophisticated multi and cross-media projects for the students.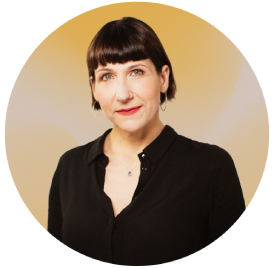 Tanja Godlewsky
Concept & Design
'I'm interested in the junction between music and design. What does pop music look like? What requirements and influences are artworks, videos, live visuals and performances subject to? These are the questions that the students and I explore together. In seminars, but also as part of personal one-on-one supervision. The aim is for them to be able to develop, with my help, an idea of their own identities as visual artists.'
Tanja Godlewsky is a self-employed creative director from Cologne, and an expert in design and pop culture. She carries out complex design projects in the fields of culture, academia and business. In addition to her expertise incontemporary visual culture, branding and publishing, she also discusses and researches the way pop musicians present themselves visually – which ties in with her long-time exploration of gender design in a (pop) cultural context. Tanja Godlewsky has been working with students from various design and art colleges/universities for many years; in addition to her role at the Folkwang University of the Arts, she also works at the Cologne International School of Design.
tanja.godlewsky@folkwang-uni.de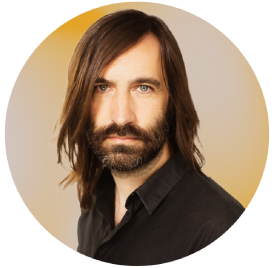 Gregor Schwellenbach
Pop-Music Composition & Arrangement/
Pop-music in practice
'I like to find out what the rules are – and then break them. Getting to know great modern music, understanding how it's made, and then forgetting everything and being inspired to express one's own personality is the approach I want to highlight in my course.'
Gregor Schwellenbach is a key figure in the junction between classic tradition and electronic club music. He is a highly sought-after film composer and orchestral arranger, working for the likes of Irmin Schmidt (Can), Kurt Wagner (Lambchop), Kölsch, Megaloh, Alligatoah, The Heritage Orchestra, The London Symphony Orchestra and WDR Funkhausorchester. His chamber-music tribute for techno label Kompakt won the VIA Indie Award 2014 for 'Best Experiment'. And for Steve Reich's 80th birthday, he produced a cover of his Six Pianos with Hauschka, Brandt Brauer Frick, John Kameel Farah and Grandbrothers, which was performed live at venues such as the Elbphilharmonie. He runs the Galerie label and Threshold & Brook publishing house, and provides weekly analyses of the latest pop songs on the WDR Cosmo radio station.
schwellenbach@folkwang-uni.de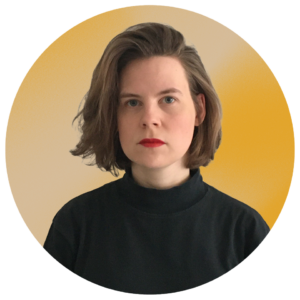 Dr. Katharina Hausladen
Music & Media/Trends & Society
Katharina Hausladen is an art and cultural scholar and freelance critic. From March 2020 to June 2022, she was editor-in-chief of "Texte zur Kunst". Her research interests include: Cultural studies, feminist theories, the theories and practices of critique, and art theories specialising in pop music, fine arts and film. She has lectured at the likes of the Vienna Academy of Fine Arts, the University of Vienna and the University of Hildesheim.
Since summer 2023, Dr. Katharina Hausladen teaches the modules "Music & Media" as well as "Trends & Society" at the institute.
katharina.hausladen@folkwang-uni.de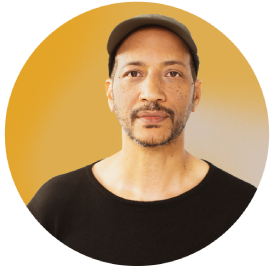 Richard Ojijo
Sound & Effect
"Sound is only as good as the weakest link in the signal chain."
Richard Ojijo lives and works in Cologne. He spent the 1990s either in relevant Cologne clubs such as Warehouse, Iz and Studio 672 or getting acquainted with the endless world of electronic music with likeminded new producers such as Boris Bontempi, Heiko Voss and Alexander Geiger. Since the late '90s, Richard Ojijo has worked as a live engineering for musicians including Joy Denalane, Freundeskreis, Moderat, GAS, 0neohtrix Point Never, Max Herre, Modeselektor, Apparat, Roosevelt and many more. There are no genres he's afraid to explore – from techno and urban, to reggae and dub, to soul, he finds it all enticing. As a studio and recording engineer, his clients have included the likes of Cody ChesnuTT, Selah Sue, Samy Deluxe and Patrice.
Richard Ojijo composes and creates soundtracks to the politically charged videos of Cologne artist Marcel Odenbach, which are exhibited at museums around the world.
He has been teaching the 'Sound & Effects' module at the Institute for Pop Music at the Folkwang University of the Arts in Bochum since 2015, where he provides insights into new soundscapes.
richard.ojijo@folkwang-uni.de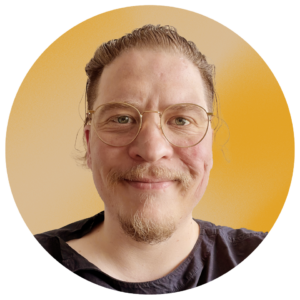 Steffen Müller
Video & Animation
Steffen Müller is an artist, graphic designer and interaction designer. He completed his studies in Visual Communications at the Folkwang University of the Arts in 2012, and, since 2009, has been carrying out freelance artistic projects focusing on spatially augmented reality. This gave rise to the MEGAH3RTZ Lighting Athletics Studio artists' collective in 2011 (Valentina Boneva + Steffen Müller). In 2013 and 2014, he was a research assistant in the Media & Interaction Design at the Osnabrück University of Applied Sciences, subsequently working as assistant lecturer specialising in transmedia spaces and interaction motion media (Media & Interaction Design course at the Osnabrück University of Applied Sciences). Since 2019, he has had regular lecturing posts specialising in generative and procedural design and moving images as part of the Communication Design course at the Folkwang University of the Arts.
In the 2023 summer semester, he also became a lecturer for the 'Video & animation' module at the Folkwang Institute for Pop Music.
steffen.mueller@folkwang-uni.de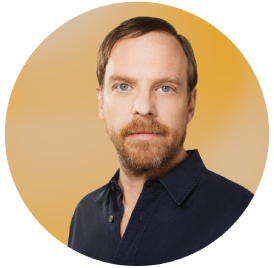 Philipp Janzen
Pop-Music Composition & Arrangement/Sound & Effect
'It may be the level or it may be a chord, but you're gonna have to serve somebody.' – based on a quote by Bob Dylan
Jan Philipp Janzen is a member of the band and producer collective VON SPAR, the band Urlaub in Polen, the Cologne-based All-Star-Clique Cologne Tape and the Stephen Malkmus & Friends play Can's Ege Bamyasi project. He has offered (and still continues to offer) his drumming skills to bands such as Die Sterne, The Field, Owen Pallett and Scout Niblett, and has produced recordings of artists such as R. Stevie Moore, The Field, die Sterne and Xul Zolar at VON SPAR's own Dumbo Studios. He has composed soundtracks (e.g. Speed – Auf der Suche nach der verlorenen Zeit), and has worked for record label Tomlab and the c/o pop music festival. He teaches pop-music production at the Folkwang Institute for Pop Music in Bochum.
philipp.janzen@folkwang-uni.de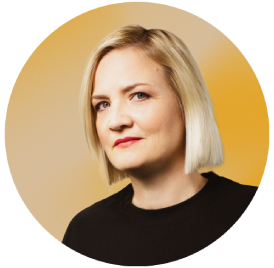 Anne Ohlen
Copyright & media law
'There's always something you can do!'
Anne Ohlen is a lawyer specialising in copyright & media law and IT law. She has clients from across the entire creative industry, and has also worked in the legal department of a television broadcaster. Her work primarily revolves around film and television law, as well as music law. At the Folkwang Institute for Pop Music, she is responsible for the 'hard facts' of copyright and media law. She teaches students the legal framework conditions for publishing music and maintaining a media presence as artists. She also lectures at the TH Köln University of Applied Sciences and the SAE Institute in Cologne.
ohlen@folkwang-uni.de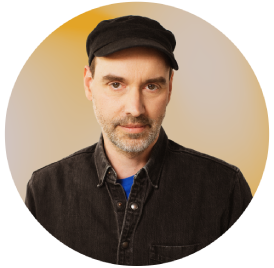 Henrik von Holtum aka Textor
'There are no rules; anything is possible, but how do you handle so much freedom? I enjoy exploring the fundamentals, because I have learned that, if you train yourself in stability, you can play with chaos.'
As the MC of Kinderzimmer Productions, Henrik von Holtum was one of the pioneers of bringing flow to the German hip-hop. He is a classically trained double-bass player and has written for publications such as Zeit, Spex and Juice. He also creates radio features for stations that include SWR, Deutschlandfunk and RBB. As a rapper, singer and bass player, his collaborations have ranged from the acoustic duo Textor & Renz to the Vienna Radio Symphony Orchestra, and from small punk-rock warehouses to the main stage at festivals. He teaches lyric-writing at the Folkwang Institute for Pop Music.
vonHoltum@folkwang-uni.de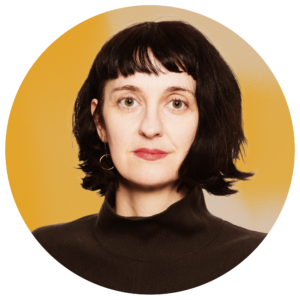 Verena Maas
Verena Maas is a film-maker and producer. After stints abroad in London and New York, she completed her studies in Audiovisual Media at Cologne's Academy of Media Arts in 2009, before working for publishing houses Walther König and TASCHEN in Cologne. In 2015, she teamed up with André Sauer and Tim Grothaus to establish The Cologne Art Book Fair, an art book fair for self-publishers. That same year, she also began working as a freelance director, camerawoman and editor, and has created hundreds of predominantly short-form films and music videos since. Her films are almost always focused on the notion of dealing with the public sphere. Urban spaces, pop culture and change-making also serve as the basis for her company tvist GmbH, which she founded with Sebastian Züger in 2020. Her business idea saw the pair awarded the Gründerstipendium NRW scholarship and the Mediengründerzentrum NRW scholarship.
Since 2020, Verena Maas has been a lecturer in 'Media production for NGOs' and 'Learning through engagement' at the University of Cologne's Professional Centre.
She has also been teaching the 'Video & animation' module at the Institute for Pop Music at the Folkwang University of the Arts in Bochum since the 2023 winter semester. Her areas of specialisation are the artistic and technical foundations of video production, imagery and media awareness, performance, DIY & low-budget video.
maas@folkwang-uni.de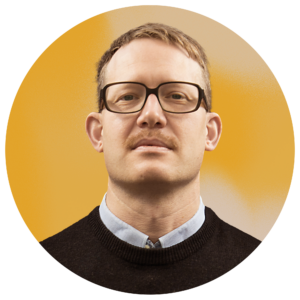 Thomas Venker
Markets, Economies & Management
'For me, teaching is a multidimensional exchange process in which everyone benefits from each other – the students (hopefully) from our experience, accumulated knowledge and even failures (with all the positive lessons these bring), and we the teachers from the students; they remind us that paradigms never have to be set in stone, and that you should always look at the world from the perspective of a wide-eyed novice if you want to fully experience and reflect on it.'
Thomas Venker is a co-publisher and co-editor-in-chief of the multi-award-winning Kaput Magazin für Insolvenz & Pop. Between 2000 and 2014, he was the editor-in-chief of Intro magazine, the magazine with the highest circulation in Germany at the time. He regularly writes for a portfolio of magazines and daily newspapers, hosts panels and symposia for cultural establishments, runs the Edition Fieber art record label, and is part of the team of curators for the Monheim Triennale. In addition to his journalism work, he also teaches music journalism and artist marketing at several German universities, and is the manager of DJ Lena Willikens and the Phantom Kino Ballett audiovisual art-performance project. He has recently published his book, Talking to Americans.
venker@folkwang-uni.de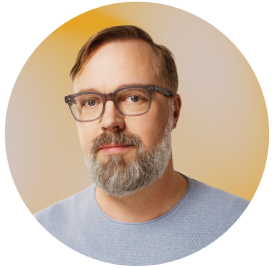 Christian Kalinowski aka NUMINOS
Sound & Effect
'Nobody leaves the seminar room until the deep bass has been packed away!'

Numinos teaches the 'Production technique(s), sound and effects' seminar. As a producer, live artist, DJ, mastering engineer, equipment tester and author of various publications (incl. Groove, Bonedo, Kopfhoerer.de), he can look back on nearly thirty-five years of technological and stylistic developments, and has in-depth knowledge of every stage of the production process.
His teaching approach primarily aims to give students a holistic perspective of the entire technical, artistic and sound creation process. Because successful production is not determined by the right or wrong choice of equaliser or compressor. Indeed formally 'correct' equipment parameter settings (whether virtual or hardware) may still be wrong, if the wrong settings sound 'right'. Christian Kalinowski is driven by his desire to convey and encourage the necessary enthusiasm for experimentation and self-confidence in assessment abilities.
numinos@folkwang-uni.de